One of the most beautiful trips I have ever done!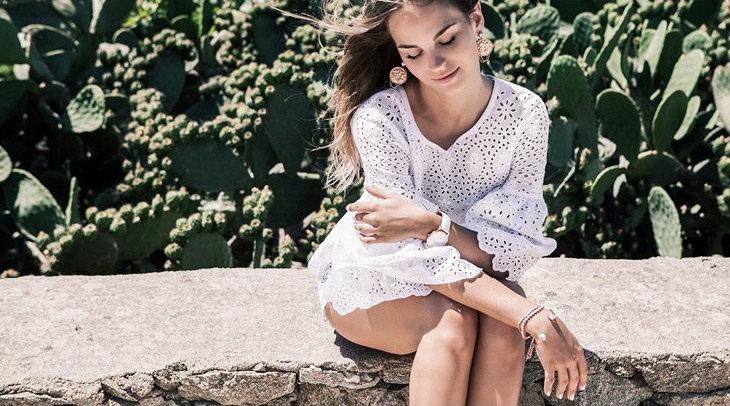 Two weeks ago, together with Folli Follie, we did a 4 day trip, the "FF Island Hopping", at two of Aegean's iconic islands; Mykonos and Tinos. What I need to say is that this was a unique experience as I was given the opportunity to meet and hang out with other girls, bloggers, from all over the world.
On Friday, the 1st of July, at 2pm, we wore some of the most beautiful creations of Folli Follie and we departed on a helicopter (yes, a helicopter) for Mykonos. It goes without saying that we took a bunch of pictures and Snapchat videos (if you follow me you already know what I'm talking about) and all of us were ecstatic with the beautiful views of the Aegean from up above. As soon as we landed, our vans picked us up and took us to our hotels. I stayed at "Colours of Mykonos" at the famous Psarou beach.
In Mykonos we had photoshoots, we laughed, we dinned, we had amazing cocktails at little Venice, we swam at Psarou beach and 2 days later, we left Mykonos in our helicopter for the beautiful and more tranquil Tinos. We stayed at "Aeolis Tinos Suites"… what a dreamy hotel and how much better could my suite be with its own private pool. It was ideal!
That's where we had our "Farewell Party" with lots of surprises! How cute were these custom made balloons with our initials? Unfortunately, I don't have any pictures of my balloon to show you, as it was already dark when I got mine. The closure to our trip was a wonderful Mediterranean dinner under the starry sky of Tinos.
On Monday, the 4th of July, we returned to the Folli Follie HQ in Athens (yes, yes, in our helicopter) and that is where we had our last dinner with the Folli Follie team and family.
The girls on this trip were: Tonia Sotiropoulou, Louis Roe, Sonya Esman, Lily Maymac, Zina Charkoplia, Nina Urgell Cloquell, Sabrina Chakici, Claire Chanelle & me.
I want to thank the FF team and fam for having me on this absolutely fashionably and gorgeous Island Hopping!
PS: You'll find more photos under the #FFIslandHopping on Instagram! :)
(Source: http://www.follifollie.com/blog/blogpost/Island-Hopping-with-Patricia-Mi...)