The celebration of Virgin Mary on Tinos on August 15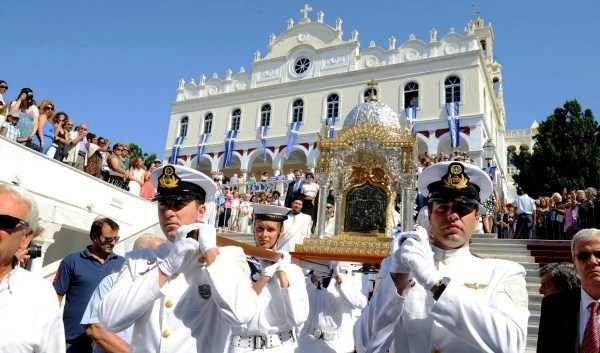 As every August 15th, so this year, Tinos had the honour to welcome hundreds of visitors / pilgrims, who flooded the island for the celebration of the Dormition of Virgin Mary.
The festive Ηierarchical Divine Liturgy, as usual, took place in the Holy Temple of Evaggelistria of Tinos by the Metropolitan bishop of Syros-Tinos, Dorotheos II. Following the Divine Liturgy, a procession of the icon to the main port took place where speeches and greetings were addressed by both official representatives of the state and the island.
The procession of the icon takes place with full military honors, escorted by the Hellenic Navy's music band along with a full detachment of honorary guard. The procession is followed by a huge crowd of pilgrims, some on their knees, in order to fulfill their oblation to the Panagia. The worshiping of the Panagia represents, for the Greeks, their love and respect for the role of the mother. As a divinity, she holds the true face of holiness, as well as the attribute of the mother who responds to her children's needs.
The celebration of the Panagia on Tinos is the largest pilgrimage in Greece
In every corner of Greece, the Dormition of the Mother of God is celebrated with the appropriate piety, but in Tinos it is considered to be the largest pilgrimage due to the circumstances under which the icon was discovered* and also because of its relation to the positive outcome of the Greek revolution.
The tradition of the celebration dates back to the beginning of the revolution when the icon of the Panagia was discovered in the monastery called 'The Lady of the Angels' and lasts for 8 days; up until the 23th of August, the day known as the 'nine days of the Mother Mary'. An overnight series of prayers, hymns, eulogies and psalmodies are performed.
At the same time, in the port of Tinos, a memorial service is also held by tradition in honor of the crew of the light cruiser 'Elli' which sunk with all hands on the very same date back in 1940 after it was torpedoed in the island's port. This ceremony ends with the firing of navy guns and a one-minute's silence for those lost …
* Tradition has it that the icon was discovered by a nun called Pelagia who followed the instructions of the Virgin Mary herself.
Read also: Churches on Tinos