Despina Vandi and Vangelis Driskas in beautiful Tinos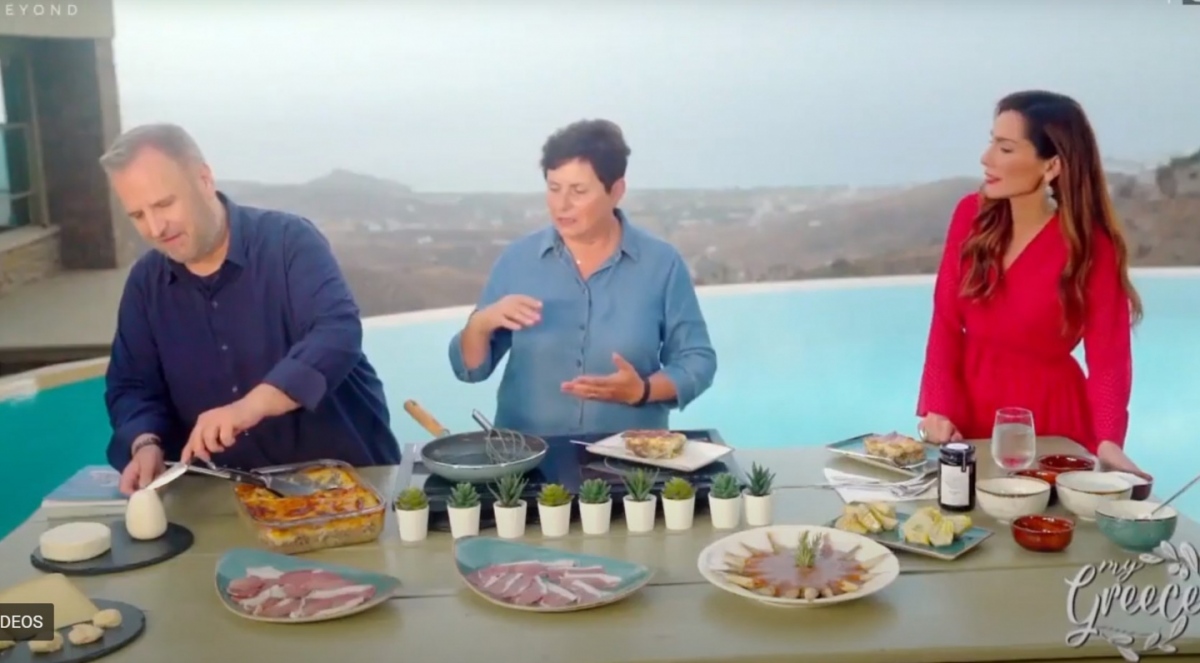 On Sunday, October 25th, 2020, the travelogue on Tinos starring the Greek singer Despina Vandi and chef Vaggelis Driskas was aired by the TV show "My Greece". A travelogue around the beloved island and its wonderful villages.
Despina Vandi, accompanied by chef and culinary expert Vangelis Driskas, gave us a "small taste" of some of the beautiful corners of the island and revealed to us what makes thousands of people choose Tinos not just for their holidays, but also as a sanctuary for life. Despina met with the kitties of the island, was scratched by one, and stripped beans with the ladies of Tinos.
The show travelled from the village of Pyrgos, known for its marbles and its legendary artist Giannouli Chalepas, to the distinct Isternia, and from the eerie landscape of Volax village, to the hospitable and gorgeous Kardiani, the village where both Christian Orthodox and Catholics coexist.
The television tribute to the island would not be complete without the majestic church of the Panagia of Tinos where Despina meets with His Eminence Metropolitan Dorotheos and discuss the miracles of the Megalohari.
Vandi and Driskas at the Aeolis Tinos Suites
The above excerpt from the video of the show takes us to the notable Aeolis Tinos Suites where chef Vangelis Driskas and the beloved Despina Vandi cook together with the folklorist Nikoleta Delatola Foskolou by the pool in front of the restaurant Zoga.
Nikoletta Foskolou lives in Tinos and has systematically kept a log of every single traditional recipe of the island.
On the show, she presents us with only a fraction of it such as artichoke moussaka, pickled artichokes and deep-fried whitebait in a sweet and sour sauce with molasses.
---
About Vaggelis Driskas
Vaggelis Driskas has worked as a chef and cooking consultant in renowned restaurants mainly in Athens. His culinary distinction is Greek creative cuisine. He has been cooking on Greek television since season 2001-2002. He teaches Gastronomic Education in a private school while at the same time gives seminars in Greece and abroad on both traditional and modern Greek cuisine.
About Despina Vandi
Despina Vandi is one of the most commercial singers in record sales in Greece in recent years, with a number of platinum albums, a world music award title, and a high record of sold-out performances.
---
Watch the full video of the trip to Tinos: