Excellent reviews from our guests on booking.com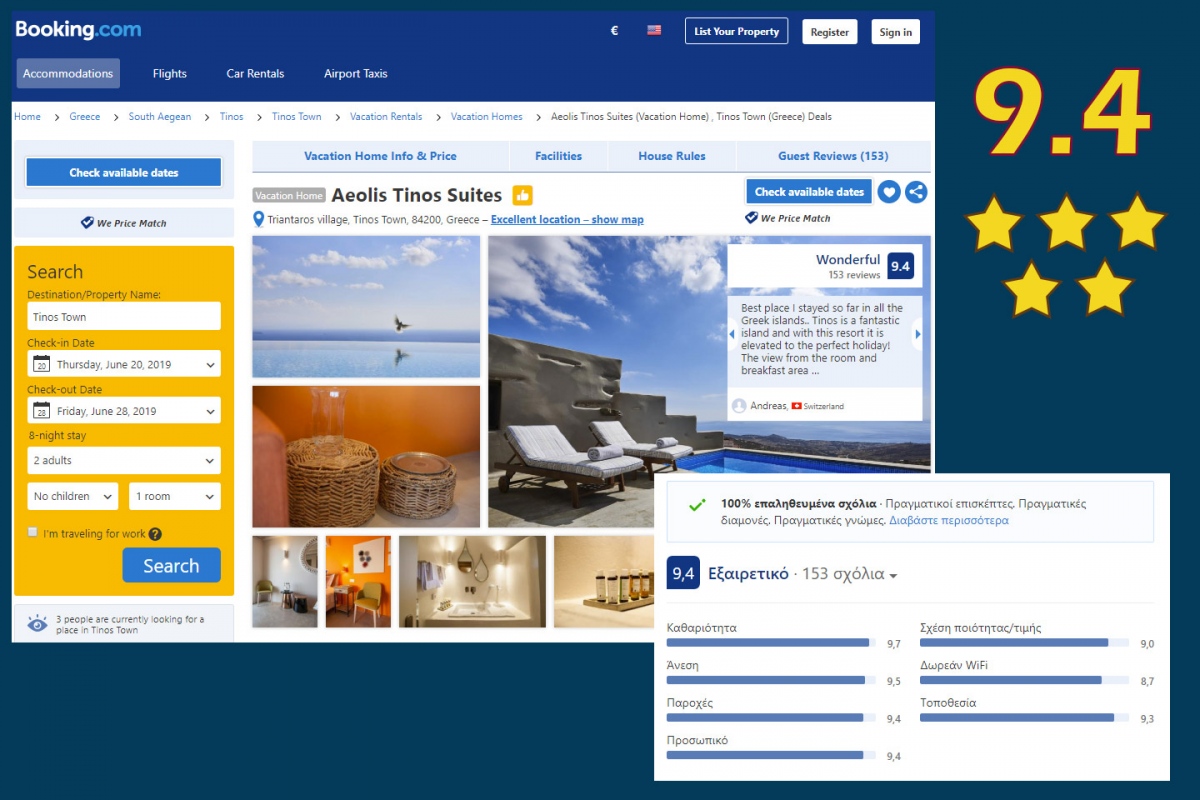 The excellent reviews that our hotel has accumulated in booking.com and other websites (TripAdvisor, Google business), only confirm our devotion and wholehearted commitment to our guest's experience, our persistence in providing impeccable service, and our warm hospitality.
It is a great honor for us that our work has been repeatedly rewarded through our customers' positive reviews, and we are committed to remaining firm in our goal to better serve our guests from all over the world.
Thank you all for your support and confidence!
---
Samples of reviews for our hotel
I absolutely loved our stay at Aeolis Tinos Suites! My aunty and I stayed at the hotel for two nights and we were very impressed with the size and cleanliness of the room and the views from the hotel, absolutely breathtaking! The room was very modern and the shower was fantastic. The breakfast was so delicious with lots to choose from! The staff were extremely helpful and friendly! The location was great, about a 10 minute drive from town and I wouldn't stay anywhere else because the views were amazing! I highly recommend this hotel! A big thank you to the staff at Aeolis Tinos Suites for a fantastic stay!!!
---
What an absolutely amazing property, each suite is different, the food in the restaurant is delicious, the staff are friendly, helpful and we loved everything about our stay, Aeolis Tinos Suites are 5 star luxury with accompanying quality food and service. We look forward to coming back in the future and spending at least one night in their Dovecote suite. Thanks for making our stay memorable.
---
We loved the beautiful property , so tastefully built. The views were amazing. The staff were super friendly and helpful. The restaurant food and pool service was lovely.